Crash course on cybersecurity
New book: Crash course on cybersecurity
The field of cybersecurity has become increasingly important in recent years, both in the public and the private sector. However, cybersecurity is not just a technology, a product or a service that is procured, but a process. Moreover, the provision of information security involves both technology and people. Many cybersecurity solutions focus on technology but the education of users is often neglected. To improve this area of education, we decided to publish a cybersecurity handbook with the aim to provide a clear overview of the various aspects of cybersecurity that are relevant for business entities.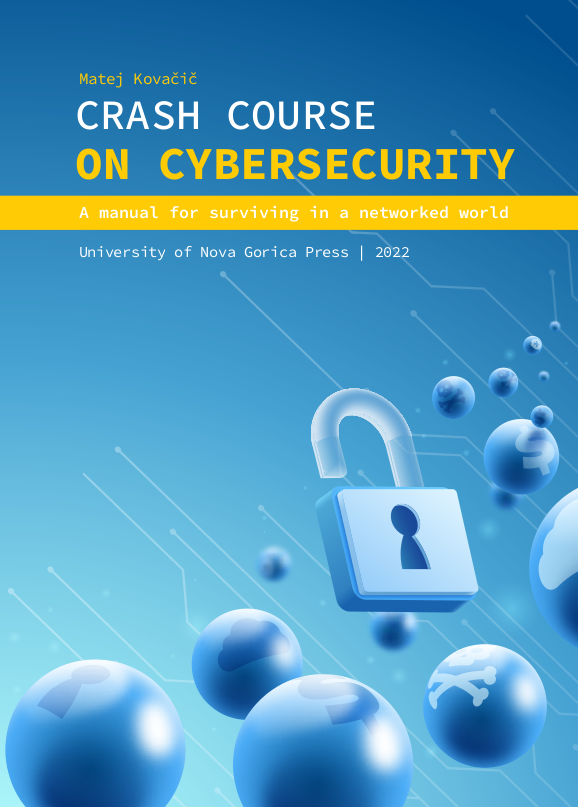 Download PDF (MD5 hash is: fcdc7021ed34dc9a15b4c34557449013).
Matej Kovačič. 2022. Crash course on cybersecurity: a manual for surviving in a networked world. ISBN: 978-961-7025-24-8 (PDF)
The book tries to explain the complex area of cybersecurity in an understandable way, to help to grasp the essential information on how to protect yourself and/or your company from cyberattacks and to provide technologically neutral advice for the implementation of protection against cyberattacks.
The handbook is intended for managers who are responsible for implementation of information security solutions in their business environment. However, it is also intended for students and regular users of information technology, because users who are not aware of the security threats often represent a major risk for the organization.
The measures described in our handbook, can increase an organization's overall protection, improve the management of information risks and ensure that an organisation has secure and reliable operations.
The book is available under a Creative Commons license and PDF is freely available online.
Knjiga: Crash course on cybersecurity
Področje kibernetske varnosti v zadnjih letih postaja vse bolj pomembno, tako v javnem kot zasebnem sektorju. Vendar pa kibernetska varnost ni samo tehnologija, izdelek ali storitev, pač pa gre za proces. Predvsem pa zagotavljanje informacijske varnosti vključuje tako tehnologijo kot ljudi. Pristopi k zagotavljanju kibernetske varnosti se pogosto preveč osredotočajo na tehnologijo, izobraževanje uporabnikov tehnologije pa je pogosto zanemarjeno. Iz tega razloga smo se odločili izdati priročnik o kibernetski varnosti, katerega namen je ponuditi jasen pregled različnih vidikov kibernetske varnosti, ki so pomembni za poslovne subjekte in druge organizacije.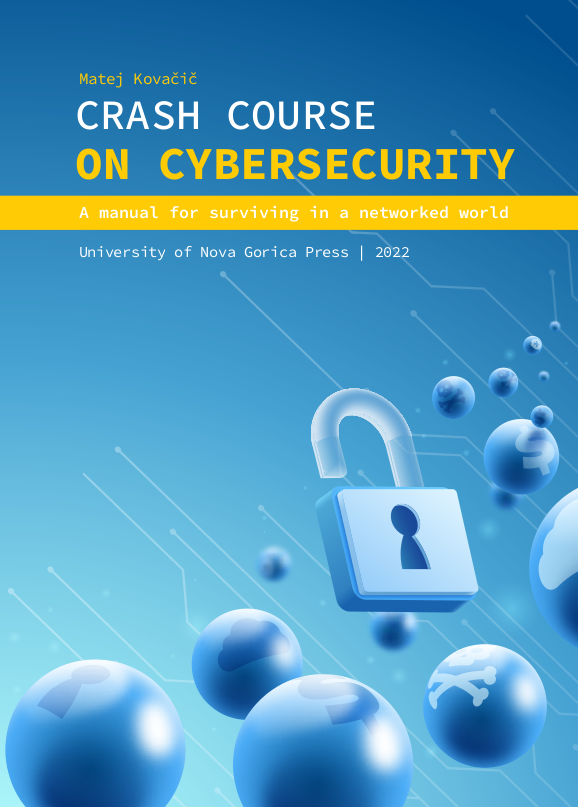 Download PDF (MD5 hash is: fcdc7021ed34dc9a15b4c34557449013).
Matej Kovačič. 2022. Crash course on cybersecurity: a manual for surviving in a networked world. ISBN: 978-961-7025-24-8 (PDF)
V knjigi skušamo na razumljiv način razložiti kompleksno področje kibernetske varnosti, izpostavljamo ključne informacije o tem, kako zaščititi sebe in/ali svoje podjetje pred kibernetskimi napadi ter skušamo podati tehnološko nevtralne nasvete za izvedbo zaščite pred kibernetskimi napadi.
Knjiga je namenjena vodstvenim delavcem v poslovnih organizacijah, ki so prvi odgovorni za implementacijo informacijsko-varnostnih rešitev v svoje poslovno okolje. Namenjena pa je tudi študentom in običajnim uporabnikom informacijske tehnologije, saj uporabniki, ki se ne zavedajo varnostnih groženj, pogosto predstavljajo veliko tveganje za organizacijo.
Nasveti, opisani v knjigi, lahko povečajo splošen nivo kibernetske varnosti organizacije, izboljšajo obvladovanje informacijskih tveganj ter posledično pomagajo zagotoviti varnejše in zanesljivejše delovanje organizacije.
Knjiga je izdana pod Creative Commons licenco in je v PDF formatu prosto dostopna tudi na spletu.
Kategorije:
Informacijska tehnologija
Ključne besede:
informacijska varnost, knjiga